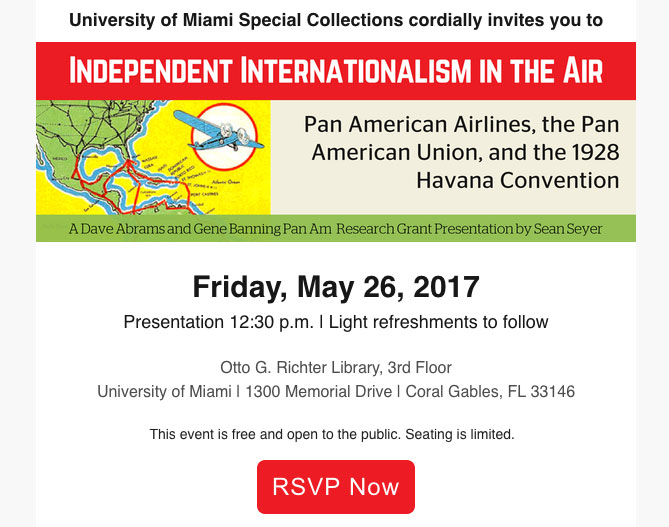 Questions? Please send an email to This email address is being protected from spambots. You need JavaScript enabled to view it.or call 305-284-4026.
Abrams-Banning Grant Event at the University of Miami Libraries
Join Sean Seyer for a presentation of his book project based on ongoing research of the Pan American World Airways, Inc. Records. Dr. Seyer is using the collection to place the origin, institutionalization, and application of the first civil aviation regulation in the United States within an international context, an analytical approach missing in the current domestic-centric narrative.
After World War I, Allied representatives crafted the 1919 Convention Relating to the Regulation of Aerial Navigation as part of the Versailles Peace Conference. This document constituted a regime—something political scientist Stephen Krasner defined as a set of "principles, norms, rules, and decision-making procedures"—that set the parameters for international civil aviation in the interwar period. While the convention's connection to the League of Nations precluded ratification by the United States, Canada's adoption of it resulted in the unofficial acceptance of its operational and registrational standards among American engineering societies, insurance companies, and aviation organizations. The 1926 Air Commerce Act, drafted in consultation with these same industry and aviation interests, placed all interstate and foreign flights within the United States under federal jurisdiction and allowed for the formal adoption of the convention's standards in the absence of ratification.
In this presentation, Seyer will discuss the book project and highlight interesting and important discoveries from his work with the Pan American World Airways, Inc. Records.
About Dave Abrams and Gene Banning
After graduating from the University of Miami, Dave Abrams (1919-2005) joined Pan American Airways and worked for 42 years as a meteorologist, navigator, and Director of Flight Operations for Latin America. Abrams was instrumental in the formation of The Pan Am Historical Foundation after the company shut its doors in 1991, and he played a crucial role in finding a home for Pan Am's archives and memorabilia.

Gene Banning (1918-2006) was one of the longest serving pilots for Pan Am. His aviation days started with the infamous flying boats in 1941 and ended with Boeing 747s in 1978. An avid researcher, Banning was a guiding member of The Pan Am Historical Foundation from its inception, and he is the author of Airlines of Pan American since 1927.
About The Pan Am Historical Foundation and Special Collections
The Pan Am Historical Foundation is a group dedicated to preserving the heritage of Pan American World Airways.

The Special Collections of the University of Miami Libraries preserves and provides access to research materials focusing on the history and culture of Florida, the Caribbean, and Latin America. The Pan American World Airways, Inc. Records consists of hundreds of boxes of materials and reigns as the most avidly consulted single resource in Special Collections.
Questions? Please send an email to This email address is being protected from spambots. You need JavaScript enabled to view it.or call 305-284-4026.