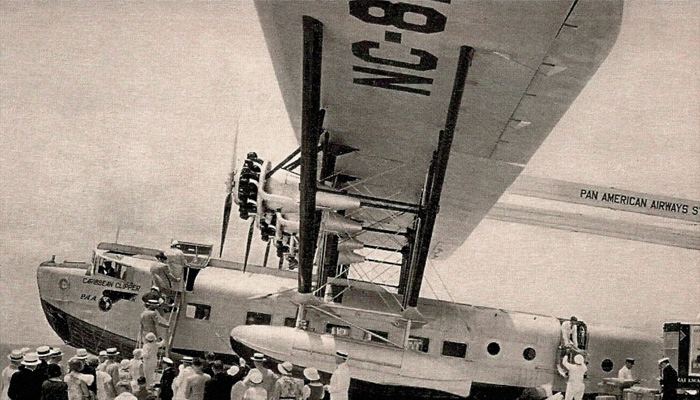 Become a Pan Am Historical Foundation Member and join our effort to preserve and promote the unique heritage of Pan American World Airways
Help us keep Pan Am's unique legacy in the public eye.
As a benefit, you will receive the annual PAHF Wall Calendar, Access to the "Clipper" Newsletter, and updates!
Pan Am Historical Foundation
ATTN: Membership
1559-B Sloat Blvd. #144
San Francisco, CA 94132
Questions? Contact the membership office at
AN UPDATE FROM PAHF PRESIDENT PETE RUNNETTE - SUMMER 2019
Summer 2019
Dear Friends of the Foundation:
To bring you up-to-date, here is an overview of what the Foundation has been working on:
Documentary
With the Foundation now in its 27th year, you've all been great supporters, our finances are healthy, and, slowly but surely, production of our documentary, "Across the Pacific" is proceeding. We have recently been assured of our anticipated Massachusetts Film tax credit of approximately $160,000, and we're still hoping to air on PBS later this year.
Membership
The membership remains stable, and the numbers have continued to benefit from an increasing number of upgrades to the Benefactor, Sponsor and Booster levels. Lifetime membership also continues to grow. Our next generation efforts continue to lag, so we continue to need and value your help to attract our children, grandchildren and their friends in our "Next Gen" program. Fortunately, as you will note from the later discussion of the robust state of our website, we've acquired a growing social media following, one third of which is under age 34. You will appreciate that some success, however modest, is important to the future of the Foundation as well as to the preservation of the Pan Am legacy. Your ideas invited and welcomed.
PAHF Tours
If you missed our Morocco tour in March, you'll have another chance this September, when we and Distant Horizons will repeat this March's Morocco trip. Our goal continues to be to provide unique travel opportunities for members, family and friends, with the added benefit of a per person financial contribution from Distant Horizons to the Foundation. For the latest Foundation tour information (as well as some photos of our Morocco tour in March), visit our website at PanAm.org.
Exhibits
The Foundation has been invited to propose an exhibit for the Marine Air Terminal (MAT) at LGA, complementing the iconic mural on the interior surrounding walls of the rotunda, and tying together the interconnected histories of Pan Am and LaGuardia Airport. Jet Blue has moved into the MAT and is supportive. The flying boats will figure prominently, including Captain Bob Ford's "Long Way Home" to LaGuardia in a B-314 from New Zealand, following the December 1941 Pearl Harbor attack. Check our progress through PanAm.org and your Clipper.
Website and Social Media
PanAm.org has seen steadily greater activity due to 1) our focus on website content creation consisting of newly digitized images and video, along with new history articles, 2) increased interest in social media, and 3) implementing enhanced features, such as last year's geolocation map search function.
This year, we have an exciting new plan with third-party developers to increase our website capabilities by adding powerful extensions and reaching even larger audiences through multimedia.
PAHF Members Site
For the last Clipper newsletter publication in March, we launched a completely new members' platform, refreshing the look and design of our website for members only. The new pages have expanded capabilities that we will continue to explore and develop in terms of audio, video and graphics.
PAHF on Social Media: And Everyone Can Follow Along
We continue our Pan Am history-related posts several times a week on social media, and PAHF continues to see referrals from social media to the PanAm.org website, which is driving increased readership.
Our @PanAmHistory Instagram page, energized since Oct. 2018, has younger viewers and very enthusiastic aviation history buffs directly linking to the PanAm.org website. We're happy about this, as it's taken place in a field of Pan Am-related Instagram accounts that is very saturated at this point in 2019, with accounts by PanAmBrands, PanAmMuseum, PanAmExperience among several other enthusiastic Pan Am devotees. For instance, one related account, "Pan.am," boasts nearly 11.5k followers.
Our PAHF Facebook page has continued to mature over the years and is still drawing new interest with our following approaching an impressive 12,800 right now. Again, this situation enhances interest in our website content and access to it.
Clipper Newsletter
The Clipper is published three times a year in both print and electronic versions. The electronic version is linked to our website with enhanced content for our readers. We hope to eventually switch to electronic distribution only in order to minimize our costs of printing and distribution. Meanwhile, we are pleased to see that more members are sending their story ideas and contributions to our Editor, Ruth Maron.
PAHF Future
In 2017 we initiated discussions with the SFO Museum with the long-term objective of finding a home for our own inventory of historic material, acquired over our 26 years, and not otherwise exhibited at one of our primary gateways. The appeal of the SFO Museum has been heightened by its continued expansion as well as its own pre-existing trove of Pan Am memorabilia, in addition to the related potential represented by virtually any future development of Treasure Island. Moreover, the Director of the SFO Museum, John Hill, is a long-time Board Member of your Foundation, who has recently co-authored a well-received and excellent new book, "Pan Am at War" (available at Amazon). I highly recommend it.
PAHF 2019 Calendar
In 2018, we focused on our Far Eastern partner of the WWII years—CNAC (China National Airlines Corporation). Coming home in 2019, we have visited the Chairman's offices in the Chrysler and Pan Am Buildings. Those walls featured the best known of Pan American aircraft over the years—such as the iconic flying boats—and concluding with December's "Queen of the Skies", the Boeing 747. A joint venture of Pan Am and Boeing, it was the favorite of both passengers and crew for nearly a half century. The 747 symbolized the leadership of Pan Am and Boeing in the early jet age.
Research Grant
Dr. Henry Knight-Lozano, Senior Lecturer in History & American Studies Northumbria University, Newcastle upon Tyne, UK, is the recipient of the 2018 Dave Abrams & Gene Banning Pan Am Research Grant.
The project that he will explore will focus on Pan Am's transpacific operations and specifically it's routes between the West Coast and Hawaii. Dr. Knight-Lozano says that his project will include "from the first California to Honolulu flight in 1936 through the Second World War."
We remain hopeful in gaining your support for your continuing commitment to the Foundation and to the preservation of the great name and memory of Pan American World Airways. Please take a moment and CLICK HERE to download, fill out, print and mail in the membership renewal form. You may also request to renew your membership by phone by calling 415-682-4007 and leaving us a message. Or Join/Renew Online and pay with PayPal
Sincerely,
Pete Runnette
President
Save
Save
Save
Save
Save
Save
Save
Save
Save
Save
Save
Save