ANNOUNCING MIA's NEW HALL OF AVIATION
SAVE THE DATE: THURS. MARCH 23RD!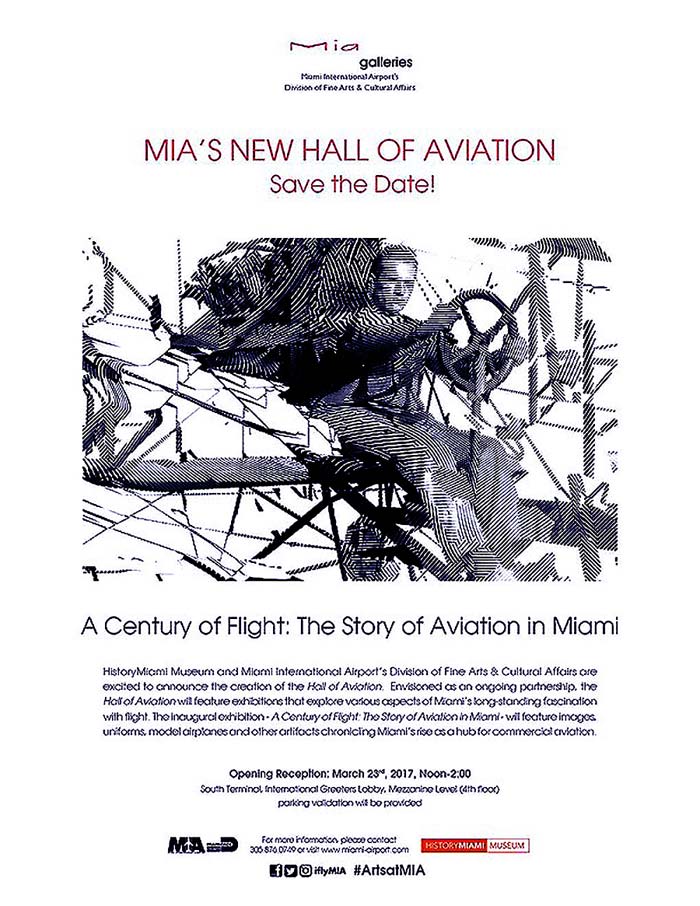 On March 23rd Miami International Airport is hosting a reception at its South Terminal International Greeters Lobby-4th Floor mezzanine to celebrate the opening of the new "Hall of Aviation". There will be an exhibit telling the history of Miami aviation as the first of many exhibits to be displayed at this location hopefully over the coming years.
Those of us, especially from Pan Am and Eastern Air Lines, are very excited about this event. We are partnering with the University of Miami, History Miami and MIA, all of which have and will display historical relics and memorabilia of what many of us consider to be the "Glory Days of Aviation".
Airlines including Pan Am, Eastern, Braniff, Arrow Air, Air Florida, Mackey and several others were some of the most prominent air carriers active in Miami. These airlines opened Florida and the Caribbean to tourism and supported the fantastic growth that we have seen over the past many decades. We hope to have in attendance several flight attendants from Pan Am and Eastern who can fit into their "old" uniforms! Pan Am and Eastern were among the largest employers in South Florida.
We hope to see you there, and invite your friends from our dynamic industry. Parking is free!