The newest book by Pan Am veteran, historian and author, Bob Gandt.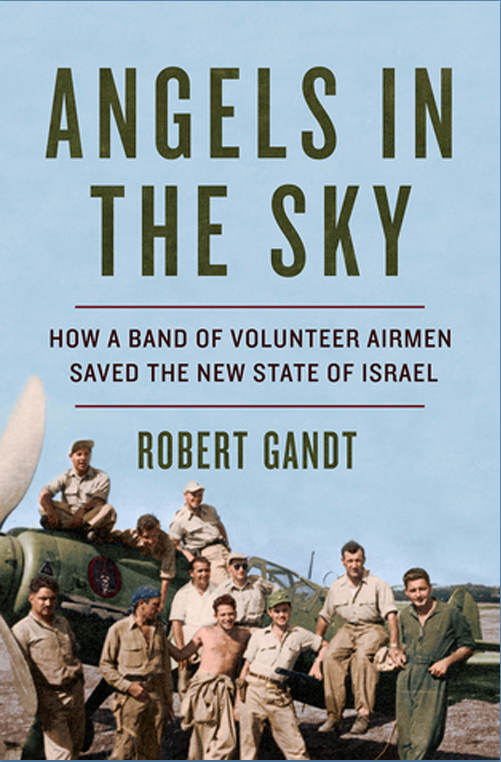 Bob Gandt's latest non-fiction book, Angels in the Sky, like his many other books, opens a door onto a time and place that we can only visit in our imaginations. And thanks to his skill as a writer, once entered, that opening proves nearly impossible to close.
Angels is about the beginnings of the Israeli Air Force, seventy years ago. All these years later, it might be easy to overlook the reality of Israel's military genesis. Although the small nation has been victorious in all its confrontations (and now ranks as something of a superpower, given its likely nuclear arsenal), Gandt reveals just how near a thing the first days of the brand-new nation were. And it's clear that the difference between Israel's future – whether it would survive, or exist only as a historical footnote – rested largely in the hands, and on the wings, of a relative handful of international volunteers, many of them Americans, forced to work with a motley, makeshift fleet of transports and warplanes.
It's a great story – and only some of it has to do with combat, although there's no lack of that. Right from the start, Angels has you in the thick of dramatic events: riding along with often inadequately-trained fighter pilots flying in dangerous knock-off Czech-made Messerschmitts; eavesdropping on shady international deals to acquire war-surplus aircraft; coping with spies. suspicion, and sabotage across Europe; and witnessing confrontations with government officials intent on stopping an embargo-busting conspiracy to provide Israel with an air force.
What ended up as a commanding military operation had its beginnings in secretive, usually furtive, and sometimes even comical plans to recruit personnel, obtain planes and materiel, and smuggle them to the Middle East. Angels follows the trail from the weeks before Israel's independence – which came the day the British Mandate ended on May 14th, 1948 – through the trying days of the on-again, off-again war that followed when five Arab nations invaded, but failed, to snuff out the new nation. The war would finally be over early in the following year, but not before Israel's air force had quickly matured into a formidable foe.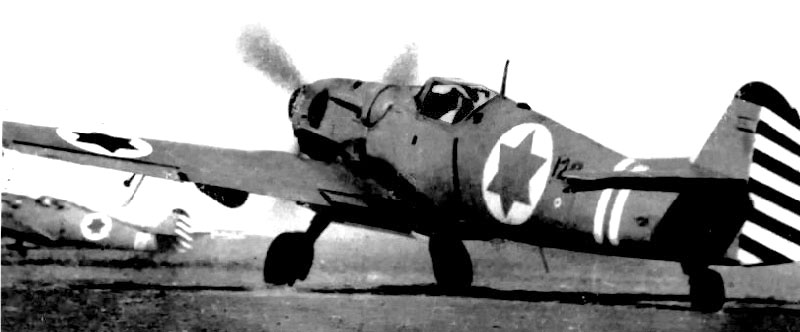 Czech-built Messerschmitt: Israeli pilots called it the "mule"
Both the pilots (many of whom were non-Jews) and the aircraft they flew were drawn from many places, and in the end the spirit and skill displayed proved the decisive factor. Even in accidental air battles with British aircraft – observing the war at ranges too close for safety – the pilots flying Israeli planes came out on top. Of course, the war, like all wars, took its toll in human lives, and many of those flying for Israel were among them.
Robert Gandt can claim credit as both a historian who carefully researches his subject, as well as being a masterful writer with a flair for human details that bring the story to life. His career includes writing for the screen, and his skill for giving voice to characters and setting scenes is on display in this book. It makes for an absorbing experience, with copious anecdotes that keep you reading. And Gandt, who flew as a carrier pilot for the US Navy, and later as captain for both Pan American and Delta, is careful to fill in technical details for non-pilot readers. Still as you might expect, some of his best, most gripping writing details moments in and around airplanes.
The story he tells is almost exclusively written from the Israeli point-of-view, which is understandable enough, given practical and political circumstances in which he had to work. This may be one of the few limitations as regards the historical weight of Angels in the Sky. But there is no lack at all of detailed research behind the history the book does present. Angels also provides a something of a glimpse into the roiled post-war American and international political scene, which affected so much as regards the shape of things to come in following decades.
If you're into modern Middle Eastern, Israeli, or Military History, or you're an aviation buff, or you are just ready for a great story well-told, you'll really enjoy Angels in the Sky. For more about Bob and excerpts from his other books (such as Skygods), go to http://www.gandt.com/